Current Situation from FloridaDisaster.org
...High Pressure Building Over Florida Today Lowers Rain Chances...However, Frequent Lightning, Gusty Winds, Heavy Downpours Still Possible With Any Storms...Heat Index Values Between 100 and 107 Degrees This Afternoon Statewide...Multiple Tropical Waves Being Watched in Far Atlantic for Possible Development...
Updated 9:00 A.M. EDT Wednesday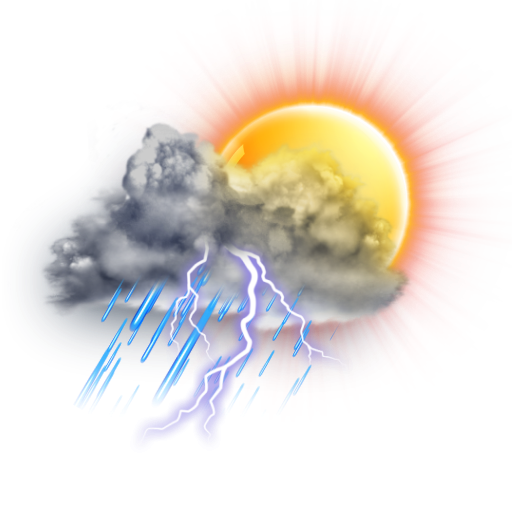 High pressure will dominate the region today, allowing winds to be light. Scattered showers and storms are expected with plentiful moisture in place, but drier air aloft will limit rain chances in Northeast Florida today. The light winds will allow the various sea breezes to push well inland, resulting in the best chances for showers and storms today in interior portions of the Peninsula and throughout the Panhandle and western portions of the Big Bend. Any storms may contain frequent lightning and gusty winds. The light winds will also allow slow-moving storms to produce heavy downpours that may cause minor nuisance flooding of low-lying and urban areas and ponding on roadways. High temperatures today will be in the lower 90s in the Panhandle, Big Bend, and South Florida and in the mid 90s in Northeast and Central Florida. Heat index values between 100 and 105 degrees are possible this afternoon throughout the state, and some locations may see values up to 107 degrees. Expect most shower and storm activity to diminish by late evening, but isolated showers and a storm or two may linger early tonight along the coasts. Partly cloudy skies are otherwise expected statewide, and low temperatures will be very mild, in the mid to upper 70s with some locations along the Peninsula coasts remaining near 80 degrees.
A moderate risk of rip currents currents is forecast for Panhandle beaches from Walton County to Franklin County due to wave heights up to 2 feet and light westerly winds, and for East Coast beaches from Volusia County to Martin County due to onshore 5-10 mph winds and wave heights up to 2 feet. A low risk of rip currents is forecast today at all other Florida beaches. Beach goers are urged to check with local beach rescue for the latest surf conditions and to always swim within sight of a lifeguard. Remember, rip currents can still occur on low risk days!
Hurricane Gert is accelerating northeastward this morning toward the north Atlantic. In the tropical Atlantic, there are three areas of interest, each with a 40% (medium) chance of development over the next five days. Invest 91L, east of the Lesser Antilles, is moving westward at 15-20 mph and is expected to enter the Caribbean Sea on Friday. Invest 92L, west of the Cabo Verde Islands, is expected to move west-northwest at 15-20 mph across the tropical Atlantic over the next few days. A tropical wave emerging off of Africa is expected to follow a similar path to 92L. Dry air, especially near 92L and the tropical wave near Africa, and only marginally conducive environmental conditions will tend to keep development of these systems slow and gradual. For the latest information on the tropics, please visit hurricanes.gov.
Florida's ESF-18 is committed to engaging the private sector in disaster response.
The State's response effort is initiated through the State Emergency Response Team (SERT), which is comprised of Governor-appointed Emergency Coordination Officers (ECO) from State agencies and volunteer organizations. Emergency Support Function (ESF) 18 Business, Industry, and Economic Stabilization integrates disaster response with private sector organizations. ESF 18 coordinates local, state and federal agency actions that provide immediate and short-term assistance for the private sector. Further, ESF 18 works with business and industry to identify available resources to meet the needs of the State and its citizens.
Working together to ensure that Florida is prepared to respond to emergencies, recover from them, and mitigate against their impacts.

Mission of SERT and the Florida Division of Emergency Management