Current Situation from FloridaDisaster.org
...Low Wildfire Threat Still Exists In The Panhandle...Sunny Skies Expected Statewide Today, Clear Skies Tonight...High Risk Of Rip Currents For Miami-Dade, Broward, And Palm Beach Counties Beaches Today...Moderate Risk Of Rip Currents From Nassau To Martin County And From Walton To Franklin County Beaches...No Tropical Development Expected Over the Next Five Days...
Updated 8:00 A.M. EDT Wednesday
The primary weather concern in Florida today is the fire weather threat. Low relative humidity will make burning conditions hazardous in some areas. While the Red Flag Warnings in the Panhandle have been cancelled today, a low fire weather threat still exists in the Panhandle due to low relative humidity, low soil moisture, and the presence of some high energy release components.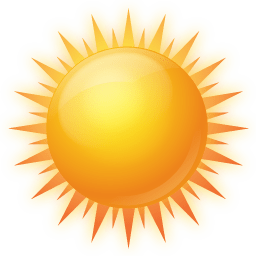 A few areas of patchy fog are occurring in the northern peninsula and Big Bend areas this morning. Dry and clear conditions will continue today in Florida. High pressure will dominate and continue to bring dry conditions to all of Florida for the next few days. Winds will be increasing along the East Coast to a blustery 15-20 mph with higher gusts. Elsewhere in the state winds will be around 5-10 mph. Highs today will be in the low to mid 80s statewide. Lows tonight will be low to mid 60s in North and Central Florida, and in the mid 70s in South Florida.
A high risk of rip currents is forecast for Miami-Dade, Broward, and Palm Beach County beaches today. A moderate risk of rip currents is forecast from Nassau to Martin County beaches and from Walton to Franklin County beaches. A low risk of rip currents is expected for all other beaches in Florida today. Beach goers are urged to check with local beach rescue for the latest surf conditions and to always swim within sight of a lifeguard.
No tropical cyclone activity forecast to occur over the next five days. For more information from the National Hurricane Center, click here.
Florida's ESF-18 is committed to engaging the private sector in disaster response.
The State's response effort is initiated through the State Emergency Response Team (SERT), which is comprised of Governor-appointed Emergency Coordination Officers (ECO) from State agencies and volunteer organizations. Emergency Support Function (ESF) 18 Business, Industry, and Economic Stabilization integrates disaster response with private sector organizations. ESF 18 coordinates local, state and federal agency actions that provide immediate and short-term assistance for the private sector. Further, ESF 18 works with business and industry to identify available resources to meet the needs of the State and its citizens.
Working together to ensure that Florida is prepared to respond to emergencies, recover from them, and mitigate against their impacts.

Mission of SERT and the Florida Division of Emergency Management