Current Situation from FloridaDisaster.org
...Typical Summertime Day in Florida...Isolated to Scattered Showers and Thunderstorms Statewide Today...Gusty Winds, Frequent Lightning, Heavy Downpours Possible With Any Storms...Moderate Risk for Rip Currents for Many East Coast Beaches...No New Tropical Cyclone Activity Expected Over the Next 48 Hours...
Updated 9:45 A.M. EDT Thursday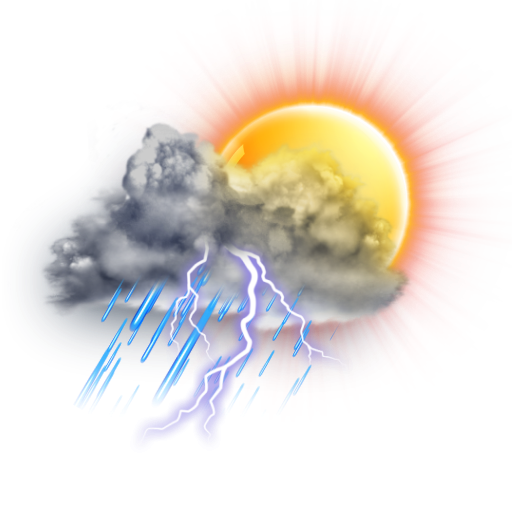 This morning, high pressure stretches from Bermuda, across the Florida Peninsula, and into the eastern Gulf of Mexico. Light winds will allow the sea breezes to push inland and drive shower and thunderstorm activity throughout the state today. Drier air over North Florida will limit rain chances there as only isolated to widely scattered showers and thunderstorms are expected. With more plentiful moisture available elsewhere, scattered to numerous showers and storms are expected. Most activity will occur in the afternoon and evening before diminishing with the loss of daytime heating. Any storms that develop may contain gusty winds and frequent lightning. In addition, with the light winds, slow-moving storms may contain heavy downpours that cause ponding on roadways and in low-lying or poorly drained areas. Highs will be in the upper 80s to lower 90s in the Peninsula and Northeast Florida and in the lower to mid 90s in the Panhandle and the Big Bend. Heat index values between 100 and 105 degrees are expected this afternoon in many locations throughout the state. Isolated showers may linger over inland locations through midnight and along the coasts in the early morning hours Friday. Lows will be in the mid to upper 70s statewide.
A moderate risk for rip currents is forecast for East Coast beaches from Volusia County to Martin County primarily due to a small east swell. A low risk for rip currents is forecast for all other Florida beaches today. Beach goers are urged to check with local beach rescue for the latest surf conditions and to always swim within sight of a lifeguard. Remember, rip currents can still occur on low risk days!
There are a couple tropical waves in the Atlantic basin this morning, but no new tropical cyclone activity is expected over the next 48 hours. For the latest information on the tropics, please visit hurricanes.gov.
There is no fire threat in Florida today due to elevated rain chances, generally wet soils, and with no part of the state abnormally dry or in drought; however, the threat for lightning-induced wildfires continues with thunderstorms in the forecast.
Florida's ESF-18 is committed to engaging the private sector in disaster response.
The State's response effort is initiated through the State Emergency Response Team (SERT), which is comprised of Governor-appointed Emergency Coordination Officers (ECO) from State agencies and volunteer organizations. Emergency Support Function (ESF) 18 Business, Industry, and Economic Stabilization integrates disaster response with private sector organizations. ESF 18 coordinates local, state and federal agency actions that provide immediate and short-term assistance for the private sector. Further, ESF 18 works with business and industry to identify available resources to meet the needs of the State and its citizens.
Working together to ensure that Florida is prepared to respond to emergencies, recover from them, and mitigate against their impacts.

Mission of SERT and the Florida Division of Emergency Management