Current Situation from FloridaDisaster.org
...Isolated to Scattered Showers and Storms Statewide...High Rip Current Risk Along Most Panhandle Coast Beaches Today Along with High Surf...High to Moderate Risk for Rip Currents for East Coast Beaches...No New Tropical Cyclone Activity Expected For Next Five Days...
Updated 9:20 A.M. EDT Friday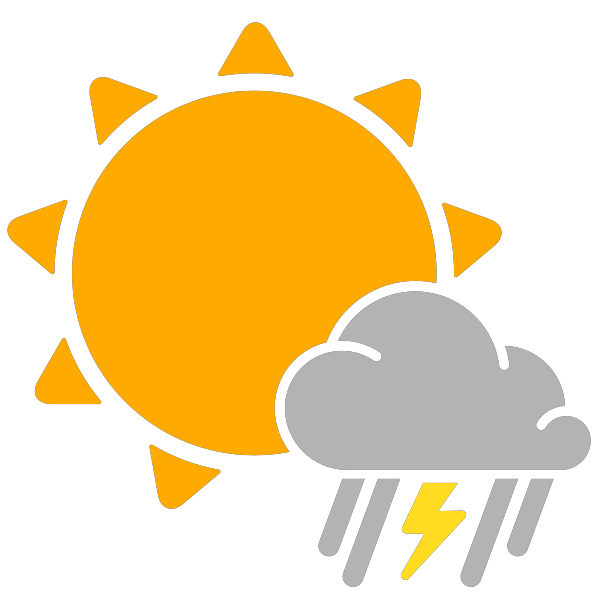 Compared to most days so far in June, today is expected to be relatively dry. Easterly to southeasterly winds will pin the West Coast sea breeze over western portions of the Peninsula, and dry air is in place over much of the state. As a result, the best chances for showers and storms are in western portions of southern Central and Southwest Florida, primarily in the afternoon and evening. There is also sufficient moisture for isolated showers and storms to develop in other parts of Central Florida, the Panhandle, and the Big Bend. Otherwise, partly to mostly cloudy skies are expected statewide today. Highs will be in the upper 80s to near 90 in the Panhandle, the Big Bend and South Florida and in the lower to mid 90s elsewhere. Heat index values between 100 and 105 degrees are possible this afternoon in parts of Northeast and Central Florida. Most showers and storms are expected to come to an end by late evening, leaving partly to mostly cloudy skies and dry conditions statewide overnight. Patchy fog may develop in parts of North and Central Florida early Saturday morning. Scattered showers and storms may begin to affect the extreme western Panhandle Saturday morning. Lows tonight will be in the mid 70s in North Florida and in the upper 70s to near 80 in Central and South Florida.
Gusty winds of 10-20 mph and elevated wave heights from 3 to 4 feet will lead to a high risk for rip currents for all Panhandle beaches. Many beaches on the Panhandle are flying double red flags meaning the water is closed. The high risk of rip currents also includes Southeast Florida. A moderate risk for rip currents is forecast for East Coast beaches north of Palm Beach County. A low risk for rip currents is forecast for all other Gulf beaches. A High Surf Advisory is in effect for Panhandle beaches from Escambia to Franklin counties until 11am EDT today with surf from 4 to 6 feet expected. A Coastal Flood Advisory is in effect for Escambia, Santa Rosa, and Okaloosa counties with minor flooding of 1 to 3 feet above normally dry ground expected today.
Tropical Depression Cindy is expected to bring rainfall to much of the eastern half of the country today with the help of an advancing cold front. There are a couple tropical waves in the Atlantic basin, but tropical cyclone development is not expected over the next five days. For more information on the tropics, please visit the National Hurricane Center website at hurricanes.gov.
With the heavy rain over the past few days, a low fire weather threat is forecast for Central Florida today. Soil moisture and humidity are both very high throughout the state, greatly limiting the wildfire threat. Drought conditions have been removed, and only abnormally dry conditions are still ongoing across parts of North and Central Florida. Only one county which does not have a year-round burn ban, Charlotte, continues to have a burn ban in place.
Florida's ESF-18 is committed to engaging the private sector in disaster response.
The State's response effort is initiated through the State Emergency Response Team (SERT), which is comprised of Governor-appointed Emergency Coordination Officers (ECO) from State agencies and volunteer organizations. Emergency Support Function (ESF) 18 Business, Industry, and Economic Stabilization integrates disaster response with private sector organizations. ESF 18 coordinates local, state and federal agency actions that provide immediate and short-term assistance for the private sector. Further, ESF 18 works with business and industry to identify available resources to meet the needs of the State and its citizens.
Working together to ensure that Florida is prepared to respond to emergencies, recover from them, and mitigate against their impacts.

Mission of SERT and the Florida Division of Emergency Management